Profile of Aichi
Symbols of Aichi (Prefectural Flower, Tree, Bird, Fish, Crest, and Song)
Prefectural Flower: Kakitsubata (Rabbitear Iris)

When the poet Ariwara no Narihira visited what is now Yatsuhashi in the city of Chiryu, he was comforted from his travel-weariness by the beauty of the flowers there. This prompted him to compose a poem for the Ise Monogatari using the five characters that make up the word kakitsubata. This flower was selected in 1954 by the NHK and tourist federations nationwide to be the prefectural flower of Aichi.
Prefectural Tree: Hananoki (Japanese Red Maple)

The hananoki is a deciduous tree of the maple family, and it occurs natively only in the region around Aichi Prefecture. This tree was chosen to be our prefectural tree by the residents of Aichi in a ballot that was taken in 1966.
The "Kaure native hananoki forest" in the foothills of Mt. Chausu in Toyone, Kitashitara District, has been designated as a national natural monument.
Prefectural Bird: Eurasian Scops-owl
The Eurasian scops-owl is a migratory bird of the owl family found throughout Europe, Asia, and the Americas. Called the konohazuku in Japanese, it is also sometimes known as the "koe-no-bupposo". The former town of Horai in Minamishitara District (now the city of Shinshiro following a merger in October 2005) is a famous spot where the calls of these owls can be heard.
The Eurasian scops-owl was selected to be our prefectural bird by the residents of Aichi in a ballot taken by the Aichi Wildlife Council in 1965.
Prefectural Fish: Kuruma Prawn

The kuruma prawn has a pattern of transverse stripes stretching from its head to its abdomen. Its name, meaning "wheel prawn" comes from the resemblance it bears to a wheel when it curls up in a circle. It was chosen to be our prefectural fish at the Aichi Fisheries Convention on September 3, 1990.
Prefectural Crest

This emblem depicts the rising sun over the waves, and it symbolizes Aichi's role in overseas development as a prefecture facing the Pacific Ocean. It is also a stylized representation of the characters "あいち" that spell "Aichi" in Japanese. It was selected in 1950 from among 1,600 designs submitted from all around the country.
• Please submit a usage notice to the Prefecture when using the Aichi crest.
For more information, please contact the Public Information Office.
(Email: koho@pref.aichi.lg.jp)
Prefectural Song: "Warera-ga Aichi" ("We Are Aichi")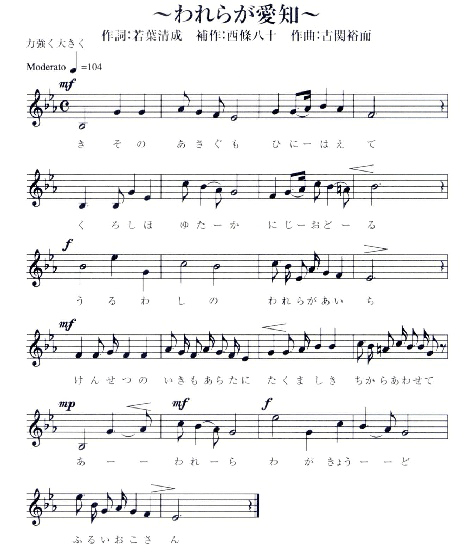 Aichi Prefecture played host to the 5th Annual National Sports Festival in 1950, and this song was chosen to represent Aichi after soliciting the general public for suggestions.
Listen to the Prefectural Song [860kB WMA file]
(JASRAC has been informed of the use of this musical piece on this website.)
Note: You need Windows Media Player in order to play WMA files. If you do not already have this software installed, you can download it from Microsoft's website free of charge. (Opens in a separate window)
---