SECURITY
Experts in Protection
Fast accurate and reassuring disaster relief during earthquakes and typhoons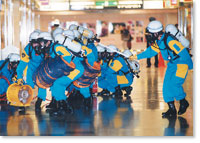 During disasters we rescue victims and direct residents to safe places. Police helicopters and boats also play an active role.
Providing infallible protection and security services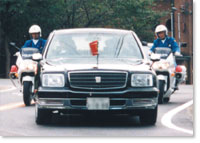 We protect members of the imperial family and very important persons from Japan and abroad. Your understanding of our tight regulations for such security purposes would be much appreciated.
Working to realize a society free from terrorists and guerrillas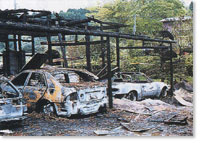 Terrorist and guerrilla attacks could wreak havoc on society. Therefore, we are dedicating all our strength to a crackdown on radicals and reinforcement of airport security.
Practical training in preparation for emergencies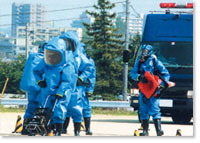 In order for us to take proper actions in the event of bio-chemical terrorism or the like, we train and practice regularly.
Fighting increasingly clever and sophisticated smuggling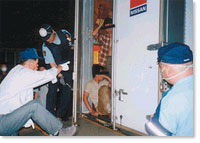 Smugglers are becoming more sophisticated and ingenious, utilizing containers and cabins of cargo vessels. We are painstakingly clamping down on such smuggling.